Connect with your social network account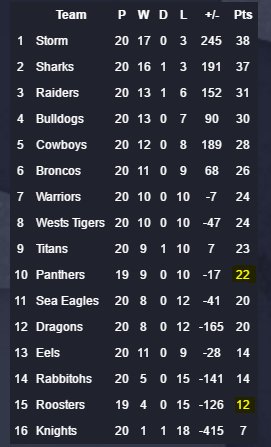 GO NUTS! GO YOU TIGERS!!!
---
---
Go the roosters....for tomorrow night !
EPL 2014/15 Predict 6
Competition ...CHAMPION !
Winner of the 2016 $$$$
Work tipping comp !
---
Forum Suppoter

Posts: 11590
Joined: Mon 27 Jun, 2011 8:03 pm
We play the Titans and Panthers the next couple of weeks, destiny is in our hands.

We can do it.
It depends who you talk to on this Forum, if you are Optimistic? it's because your delusional and need a reality check. If you are Pessimistic? Your accused of being a negative Nancy and to go and follow another Club.
---
hobbo2803 wrote:Go the roosters....for tomorrow night !
Yes definitely for tomorrow night only!
I think they are a good chance of winning, seemed to have improved a fair bit lately. Fingers crossed
Sooner or later, next year has to be this year - Ricksen
---
Member

Posts: 1960
Joined: Sat 15 Dec, 2012 7:11 pm
---
---
If we win 3 from 4 we will be there no matter what else happens.
---
Member

Posts: 4193
Joined: Tue 14 Jul, 2009 5:33 pm
Titans, Panthers and Warriors over the next 3 weeks. We win all 3 and we're there, which sets up a massive game in R26 against the Raiders at the 8th wonder
---
Member

Posts: 5111
Joined: Mon 25 Feb, 2013 7:59 am
Milky - how good is that.
---
Look at that points diff. We've taken 40 points off it in the last 3 games.
---
Member

Posts: 3068
Joined: Wed 21 Jul, 2010 12:03 pm
Location: Ex Ctown Resident Now Qlander
i really fear the raiders
once they get a roll on they just keep on coming

The other games, we have a real chance
---