Feeling the love in South-western Sydney​
Author
Wests Tigers
Wed 7 Dec 2022, 08:25 AM
​
If the numbers are anything to go by, there sure is a lot of love for Wests Tigers in South-western Sydney.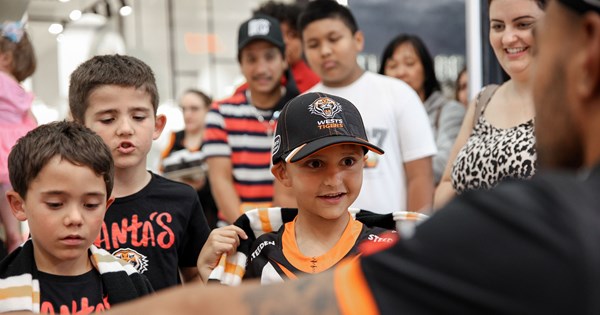 Hundreds of Wests Tigers supporters were in attendance at last week's Meet & Greet at Narellan Town Centre
www.weststigers.com.au
The club has been busy over the past few weeks planning and executing a schedule of community events in the lead up to Christmas, many of which are in the Macarthur region.
More than 400 supporters turned out last Thursday night for a 'meet the players' session at Narellan Town Centre.
The 2023 playing squad and coaching staff were in attendance, along with several Wests Tigers office staff.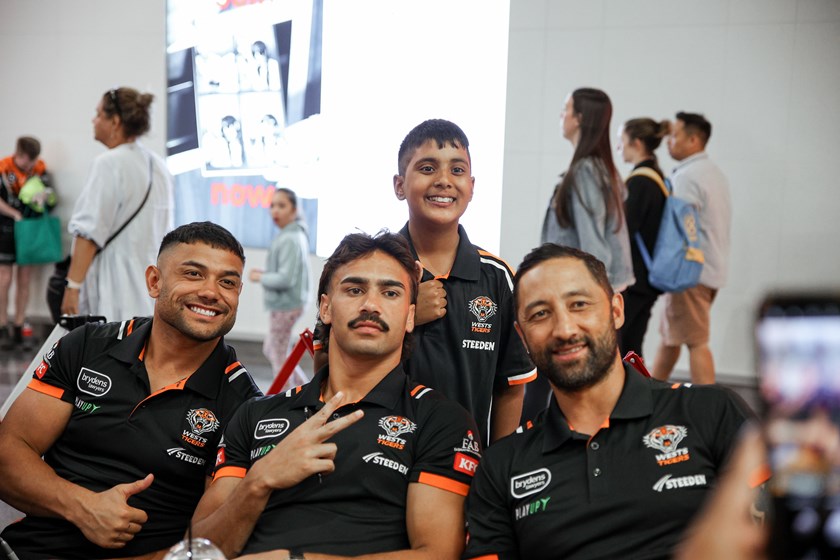 Assistant coach Benji Marshall remains as popular as ever in the Macarthur region.
One lady, who has been supporting the club for 55 years, was overcome with emotion after meeting Benji.
"I waited 22 years to get a photo with Benji and I finally got it, I just can't believe it," she said.
Win, lose or draw I just love my Wests Tigers."
Wests Tigers fan of 55 years
Another supporter asked Benji to outline his autograph as neatly as possible on her forearm so that she could have it inked by a tattoo artist nearby.
Marshall says he was stoked to see so many supporters at the event.
"It's a fresh start for this group as we embark on a new season and I could feel the excitement in the area," he said.
There is clearly a lot of love for this club and as a squad we got a huge buzz out of it."
Benji Marshall
Earlier that day the team trained at nearby school St Gregory's College, Campbelltown, and again the welcome was a warm one.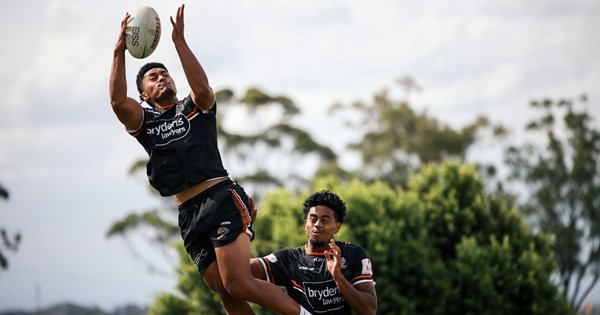 Some nice pics from the team's training session at St Gregory's College, Campbelltown
www.weststigers.com.au
Coach Tim Sheens, who was School Captain at St Greg's in the late sixties, says it's important for the club to build on its strong relationship with the school.
"It was great to have a session at St Greg's and I know our players enjoyed being there," Sheens said.
The school has developed so many players over the years who have gone on to play at NRL level."
"It continues to be a very important part of our pathways planning in the southwest of Sydney."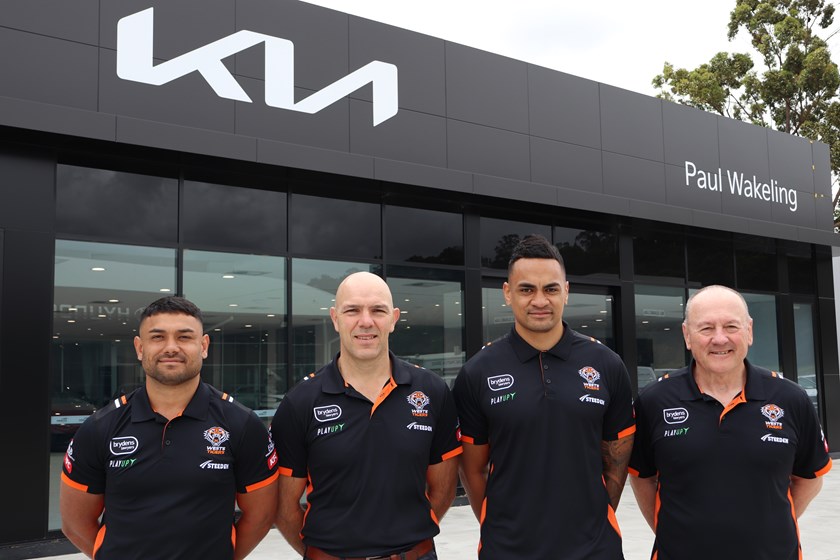 Tim Sheens with David Nofoaluma, John Skandalis and Ken Maumalo
Sheens was also kept busy in the morning, spending time with local sponsor Paul Wakeling Motor Group. Corporate Sales Executive John Skandalis says this has been a long-standing relationship.
"Paul and Scott and their team have been involved with this club for more than 30 years and we certainly value their continued support," he said.
Later this week Wests Tigers will continue its annual Christmas Toy Drive, with players and staff visiting Liverpool and Bowral Hospitals.
Joe Ofahengaue and Alex Seyfarth spread some Christmas cheer at Campbelltown Hospital last week, visiting children and parents in the maternity and paediatric wards.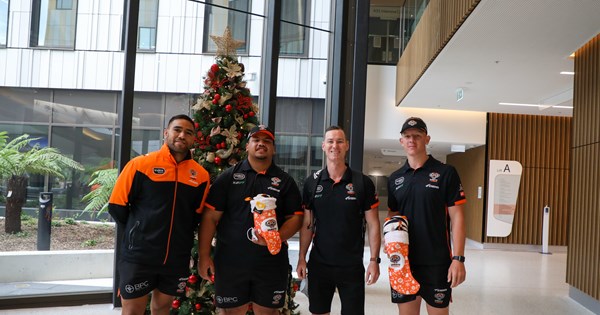 First stop was Campbelltown Hospital for Wests Tigers annual Christmas Toy Drive
www.weststigers.com.au
Joe Ofahengaue and Alex Seyfarth at Campbelltown Hospital
Ofahengaue and his wife are expecting their third child in February.
"It's really rewarding coming here and seeing all these smiles," he said.
It means a lot to the children and it means a lot to us players as well."
Joe Ofahengaue
Wests Tigers hosted its first Unite Harmony Festival last Friday at Kirkham Oval, Camden. Unite Harmony is the club's flagship high school community program in Sydney's Inner West, South Western Sydney and Southern Highlands regions.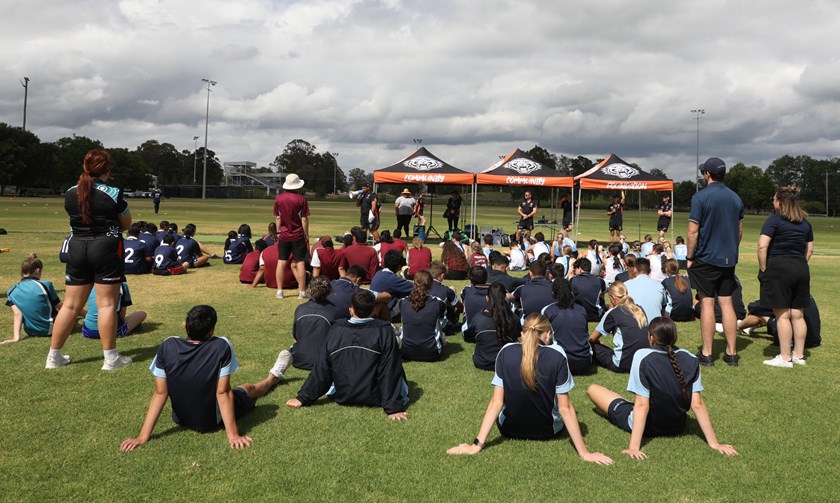 Unite Harmony Festival at Kirkham Oval
Community Engagement Coordinator, Kenneth Tuala says the program has been delivered to 30 schools since its inception two years ago.
"It's about delivering positive messages and themes through the platform of rugby league," he said.
It's so rewarding to see the impact Unite Harmony is having on the school communities in our area."
Kenneth Tuala
The club continued to engage with the Macarthur community at last weekend's Rocking Around Campbelltown Christmas Convoy.
This event was in conjunction with Wests Leagues Campbelltown, Campbelltown Council, Radio C91.3FM, NSW Police, and of course Santa.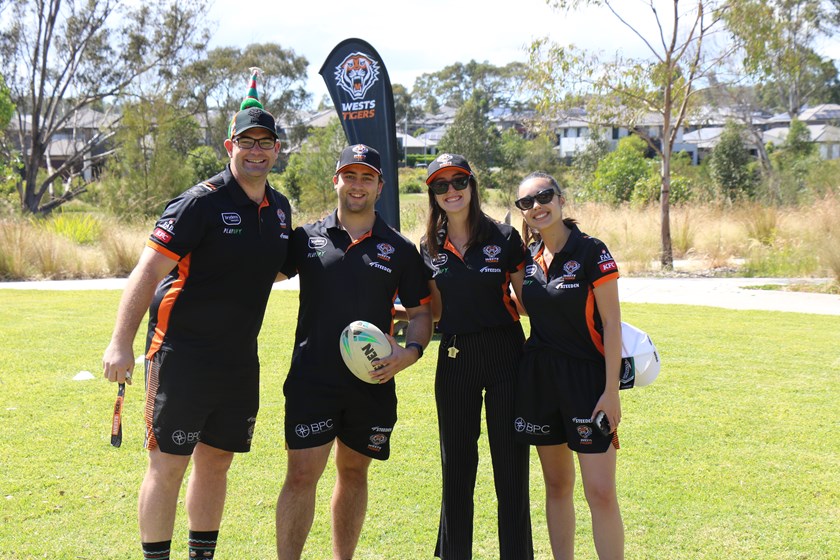 Grant Kirkpatrick with his convoy crew
Consumer Business Manager, Grant Kirkpatrick says the local support was tremendous.
"We had a really positive reception with around 500 people involved, and most walking away with Wests Tigers prizes,' he said.
The festive vibes will continue this weekend at the club's Concord base, the Zurich Centre. Around 750 guests are expected for Wests Tigers inaugural Members Christmas BBQ.
Last edited by a moderator: