Getting closer:
ONLY 5 Days to go till the FUN kicks off!!
So after all that, everyone PLEASE join BOTH comps:
WTF Head2Head Season 2022/2023: Code rg8pbm
And
WTF Classic League 2022/2023: Code s9c86n
This could be you - or maybe you could do even better!!
Come on - Join The Fun and maybe bring your friends.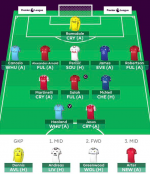 Last edited: