Snippets from a recent article from FoxSports.
Jasper Bruce from Nca Newswire
May 6th, 2022 4:30 pm
Maguire said he was hopeful Adam Doueihi could return early from a long-term knee injury.
The Tigers' best player in 2021, Doueihi could return to the fray earlier than initially expected.
"He's training really well at the moment, so fingers crossed we might be able to get him a tad earlier than what was expected.
Doueihi's return could create a selection headache for Maguire; the Tigers' halves combination of Luke Brooks and Jackson Hastings is firing and Daine Laurie firms as the club's long-term fullback.
Doueihi is a chance to slot into the centres, having started there on 15 occasions before, but Maguire said he had yet to make a decision about where Doueihi would play.
"I haven't even thought about that," he said.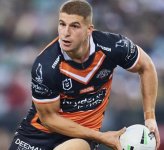 Whether it was a smoke screen or not his comment about not thinking about it raised my eyebrows.
One of the most influential players in our side and he hasn't thought about it, come on Madge we're not that silly.
What position do you think Adam will play in. What will our final backline makeup look like going forward?
Thoughts......