https://www.weststigers.com.au/news/2018/05/29/luke-brooks-running-to-new-heights-in-2018/
Dan Talintyre
Tue 29 May 2018, 01:26 PM
The halfback is having more runs, run metres, linebreaks and tackle breaks per game than ever before.
However, when we truly take a deep dive in to the numbers, we can see just how dangerous Brooks running game is proving this year and how it's actually standing him apart from the rest of the NRL…


THREE STATS FROM LUKE BROOKS IN 2018
1. Wests Tigers are undefeated when Luke Brooks runs the ball for more than 100m per game.
This season, Luke Brooks has run the ball for more than 100 metres per game on six occasions.
Round 2, Round 4, Round 5, Round 6, Round 10 and Round 12.
Wests Tigers have won all six.
In fact, if we look back all the way to start of the 2015 season, Wests Tigers have not been beaten in regulation when Luke Brooks cracks the century mark for his run metres. The only two times they have — Round 7 in 2016 and Round 4 in 2015 — were Golden Point losses to the Storm and Bulldogs respectively.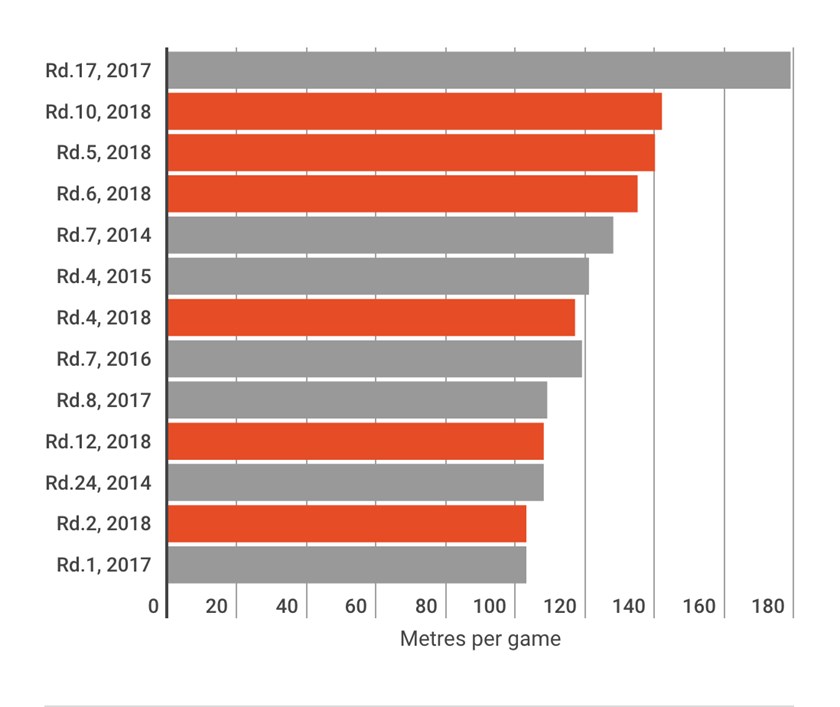 2. No half has had more metres per game than Brooks in 2018.
While Wests Tigers fans know how important Brooks' running game is this year, it's also worth noting that across the league, the 23-year-old's numbers stack up remarkably well.
In fact, no halfback or five-eighth averages more metres per game than Brooks does, with the halfback approaching close to 100 running metres per a game.
The only player in the competition who comes close to Brooks in this regards is Cameron Munster, who technically averages 100.9 metres a game for the year, but he did play fullback in Round 1 with Billy Slater sidelined and subsequently racked up 190 running metres for that game. So when we take that round out of his average, Munster's numbers drop back down below Brooks to sit second in the competition.
Of the players listed in the graphic below, it's also worth noting that Matt Moylan (Cronulla) and Corey Norman (Parramatta) have spent time at fullback this season, thus inflating their per-game average.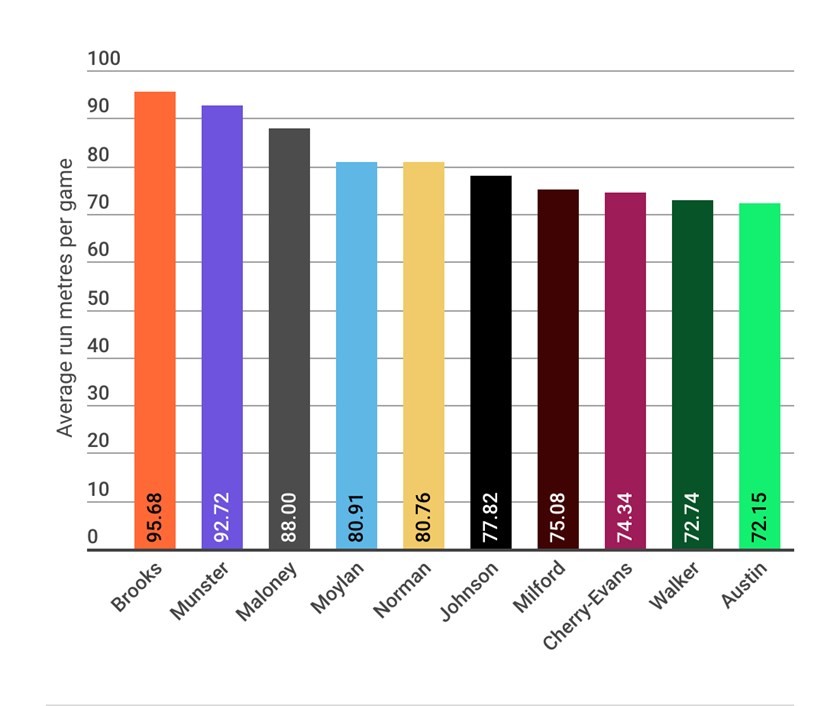 3. Brooks is on track for a career best season.
While the halfback's 2014 Dally M Rookie of the Year season was pretty special, across the board, it's clear that Brooks is on track for the best 12 months of his career since entering first-grade.
He might not reach the 10 tries and 16 try assists that he registered in 2015, but if we look deeper in to the numbers, Brooks' overall game has certainly come along leaps and bounds under Coach Ivan Cleary.
Wests Tigers fans will certainly be hoping this improvement continues for a long time to come!